See auction results
Something a lot of people might not realise (I didn't know this until earlier this year when a friend who works there told me) is that the auction giant Sotheby's - where you're hearing about
Damien Hirst's Golden Calf selling for over £10million yesterday
- often have the auctions open as public exhibitions for weeks leading up to the actual sale. It's free to get in and you can just wander around looking at some of the most expensive art in the world.
Back in June there was an auction of modern and contemporary art taking place there and the highlights were on public view. One of the most striking pieces up for sale then was Damien Hirst's "Rapture" - a huge canvas covered in a pattern of butterfly wings that made you gasp when you first saw it. It was bewitching, I went back to that room several times to gaze at it. The man-made pattern served as a way of focussing and celebrating the astonishing natural beauty of the insects' wings - placed flat in such numbers they seemed to amplify each others' mysterious power.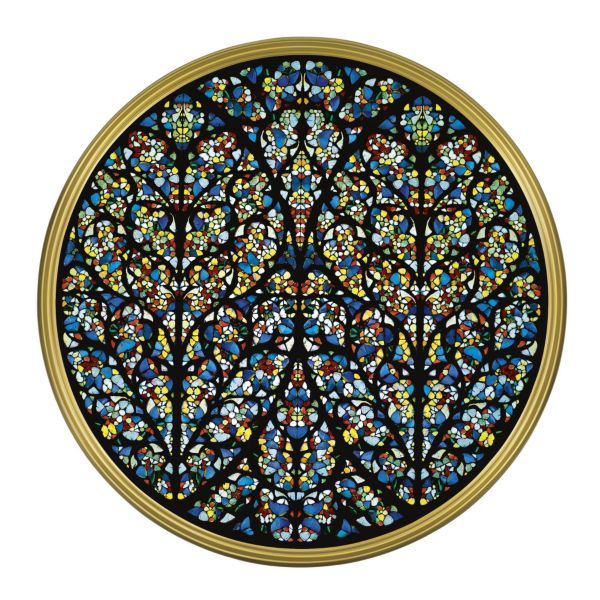 The exhibition which was auctioned off last night - titled
Beautiful Inside My Head Forever
- had more of the same, and then some. For this exhibition Hirst had filled the whole of the Sotheby's exhibition space with new work. All of the things he is famous for were repeated there, many of them with new twists: preserved animals in formaldehyde, but with gold-tipped hooves and horns. Those butterfly paintings like Rapture, but made much more in the image of Cathedral stained-glass windows - and then butterfly wings scattered on black backgrounds with diamonds and razorblades. Spin paintings, but stencilled over with other spin paintings... so you had brightly coloured skulls on brightly coloured backgrounds. These pieces were subtitled "with extra inner beauty".
All over the exhibition there were pieces that made you gasp and grin. In general the talk the surrounds the work, for example about whether the amounts spent on it (both in its production and at sale) are obscene and whether Damien Hirst really counts as an artist since so much of what you see is actually manufactured by assistants - and whether he isn't, in any case, more of a businessman and marketer than artist - falls away rapidly when you are actually confronted with the work. The pieces, in fact, speak for themselves.
Much of Hirst's work can be seen as dramatic
Memento mori
and some of them in fact directly reference the medieval practice of producing an image that was half-beautiful, half-decayed - two sculptures of classical-style angels, one larger than life-sized, are stripped like anatomical models as you move around them, their muscles, bones and sinews showing. One absolutely awesome piece consisted of a large three dimensional collection of tanks, each containing a small preserved fish of a different species - as you moved around this structure it became apparent that the other half had the skeletons of the same fish species symmetrically arranged. But the bisection was perfectly mirrored, so that it appared from one side as if all the tanks were full of skeletons, and the other half full of "complete" fish. The arrangement meant that if you hovered around this mirror line,the flesh appeared to be stripped off the bones of the fish as you moved around.
The larger dead animals in the exhibition present a conundrum. I think there are a lot of people who probably object to their use at all. I remember a conversation with a friend at school who felt that a dead stoat was not beautiful at all now that it was dead, but I don't share that view. I remember feeling with some past works that I was looking at "just" an animal in a tank - how was it different to looking at preserved animals in any museum that deals with natural history? Perhaps it doesn't have to be different, but I feel it does to be interesting. In some cases Hirst's titles transform the works and are what make them different. But here there were animals with golden hooves and horns, and instantly they seemed like different things. I felt that some forced you to look on the animals with reverence. When you consider
what normally happens to the bodies of farm animals that aren't eaten
it seems like a great thing that these few creatures can be admired after their death. But I was offended by a piece which had four cow's heads propping up a beach ball, and another which featured the decapitated head of a unicorn (complete with the blade that did it). I found it hard to understand why I felt this way about some, and quite differently about others. I felt in some cases that the carcasses were being used for a cheap joke, which seemed wrong. A preserved dove with a sprig in its beak also seemed tacky. But the Golden Calf seemed sacred, and the flying piglet celebratory.
The few incidents of bad taste within the work slightly tarnished what was otherwise an astonishing show. Whether anyone should have as much money to spend on art as some of the lots finally took is an separate debate from the effect of the work itself - although on the other issue I do think that the manufacturing assistants could be given more open credit. Anyway I'm thankful to have had the chance to see the whole thing in one place before it went off to the wealthy bidders and if you're ever passing through New Bond Street I recommend stopping and checking to see if they've got a show on.
I give
Beautiful Inside My Head Forever
by Damien Hirst
8 out of 10
.
Photographs from Sothebys, BBC news site.